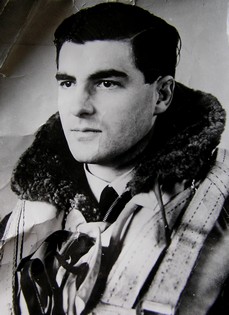 5 March 1941 - Posted to 21OTU
16 May 1941 - Posted to 214 Squadron
28 January 1942 - Posted to 1483 GF
Travelled by ship to Takoradi
29 November 1942 - Ferry flight across Africa to Cairo, en-route for India. Now listed as Squadron Leader.
7 December 1942 - New Delhi India
12 December 1942 - Posted to 99 Squadron Digri India as Flight Commander
18 September 1943 - Posted to 355 Squadron Salbani
Fg/Off William Esplen
, 82979, Wireless Operator / Air Gunner, Royal Air Force Volunteer Reserve, KIA 8 September 1941, Aged 33
SEE CREWS AND LOSSES for Wellington Mark I C R1784 BU-?
Buried in
BERLIN 1939-1945 WAR CEMETERY
. Reference : 4. A. 11.
Son of William and Lucie Esplen; husband of Kathleen Eleanor Esplen, of Kingston Hill, Surrey.
In August 1941 South African Wg Cdr G L Cruickshanks DFC (ex-No.9 Squadron) took over command of 214 on the completion of W/C RB "Duck" Jordan's time as CO. The squadron was active over many targets over this period and on 7/8 September detailed 11 aircraft; part of a force of 197 aircraft including 103 Wellingtons; to attack Berlin.
Squadron Commanders were allowed to fly a limited number of "ops" and the new CO decided to make his first trip with 214 but instead of flying with a normal crew (as captain or second pilot) W/C Cruickshanks got together a "scratch" crew consisting of a number of experienced aircrew; W/C G L Cruickshanks DFC (captain) S/L W Davies (possibly second pilot) aged 44); Flt Lt Keith Falconer DFC (navigator 33); Fg Off Bill Esplen (W/op) (33); and Sgts L T Chapman (27); and A N Page (26) (air-gunners).
All with the exception of Sgt Chapman were married and you will see that few were "youngsters" – (no age was given for Wg Cdr).
On rare occasions an aircrew could consist of a disproportionate number of officers high ranking or otherwise; and in the RAF; the man sitting in the left-hand (pilot's) seat was the boss even if an NCO.
I am not sure which was Bill's regular crew or how many "ops" he had flown; but Keith Falconer had actually finished his tour and had no need to fly; but agreed on this one trip with his new CO. Keith was married to a "glamorous" film star and like Bill was a very popular figure. The outgoing CO (W/C Jordan) was greatly upset by the loss as Keith was always his own choice for navigator. (W/C Jordan flew regularly) and he had arranged for Keith to join him as an instructor at the OTU at Bramcote.
W/C Cruickshanks was replaced by W/C Barry McFadden DFC who himself was lost in February 1942 on operations but flying with a regular crew.
The following crew photographs are of exceptional quality as found in officially sanctioned photographs. While many of the crew are the same in both photos, none have been identified except F/O Esplen who is far right in above photo and third from left in bottom photo. Flt/Lt Keith James Falconer is third from the right on the back row in the top photograph. Note in the top photo some sort of steel structure with graphitti on it was used as the backdrop. In the photo below the group is posing in front of what appears to be an Armstrong Whitley Whitworth, such being the case this photo may not be of a 214 group. It is thought 138 squadron were stationed at Stradishall at the same time and they flew Whitleys. As per the wheel chock, the serial of this aircraft starts out K34????? Note also the men who are not suited up in both photos which is rather odd, it is also unknown why the large groups of 10 and 11 men, this can not be a single crew in 1941.
If anyone can identify any of those in the photos, please contact Simon or the 214 Site. Also see closeups of these photos in the PHOTO ALBUM section. Simon's grandmother had two very interesting newsclippings which can also be seen in the PHOTO ALBUM section.
---
---
---